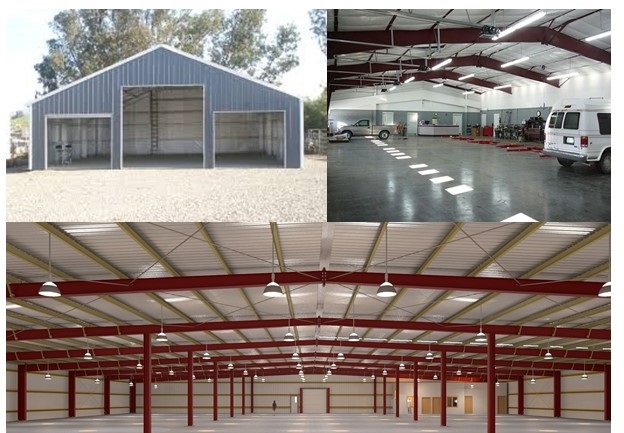 Reliable Steel Building Suppliers in the Charleston area:
Southern Building Systems Inc
2882 Piedmont Rd
Charleston, WV 25311
Charleston Steel
511 28th St
Dunbar, WV 25064
Quail Ridge Construction Co
1502 Dixie St
Charleston, WV 25311
American Building Systems Inc
3060 Mt Vernon Rd
Hurricane, WV 25526

Available in these Charleston Zip Codes: 25301, 25302, 25303, 25304, 25305, 25306, 25309, 25311, 25312, 25314

Buy Metal Buildings in Charleston, WV – Find Steel Buildings For Sale Near You
Steel Buildings Zone is known in Charleston as an authority on steel buildings. From steel garages to warehouse buildings, we'll connect you with to right suppliers. Local metal building suppliers can help you with steel garage buildings, metal barns, storage, and more.
Popular Steel Building Sizes
10,000+ Sq Ft Metal Buildings
How Much Does A Steel Building Cost in Charleston?
Because there are so many options and sizes of steel buildings, costs can vary greatly. For an accurate price please request free price quotes. Here are the typical costs for metal buildings in Charleston:
Rigid-frame steel buildings cost $7.50 and $20.10 per square foot
A finished metal building cost $12.50 to $27.12 per square foot (up to $40/sq ft if more complex)
Materials average between $7.05 to $16.70 per square foot
Foundation costs $4.80 to $7.10 per square foot of poured concrete.
Labor cost average $3.20 – $5.20 per square foot (billed by the hour)
If you're buying a steel building in Charleston it's important to know the building codes, so be sure to check Charleston building codes before you sign any contracts.
Steel Buildings For Sale
Request Steel Building Prices
New Metal Buildings
Steel Garages, Auto Shops, Storage
Steel Warehouse Buildings
Commercial, Industrial Metal Buildings


For Any Steel Building Need: Churches, Farm Storage, Steel Garages, Metal Barns, Airplane Hangers, Workshops, Storage, Retail Buildings, Strip Malls, Car Dealerships, Wineries, Fitness Centers, Medical Buildings, Sports Facilities
Get everything you need to know about buying metal buildings in Charleston, WV in this guide including building types, costs, and must-have features.
Are you searching for a metal building for your business? Don't worry; with this guide, you can learn how to find the right steel building for your company.
From its affordable features to various types, purchasing a metal building is easy and simple. Now let's take a look at what you need to know about metal buildings in Charleston.
Types of Metal Buildings
There is more to a steel building than a metal garage. Here are three examples of commercial metal buildings:
Agricultural Storage Buildings
These buildings are used to store agricultural equipment, livestock, and other farm necessities. Unlike other buildings, steel buildings are durable to last through any weather conditions. Thus, metal buildings are perfect for farm locations where seasonal rain and higher heat are likely to occur.
Airplane Hanger Steel Buildings
Since aircraft need to be spread out amongst a vast area, pre-fabricated steel structures are often used to construct hangers. Also, metal buildings protect aircraft from weather and debris. You can customize your hanger by including energy-efficient offices and ventilation systems.
Industrial Facility Metal Buildings
Metal buildings are perfect for industrial facilities since they can be built in such a quick time frame. They're also low maintenance and unlike other buildings don't need as much upkeep.
To customize, you can include firewalls, cold storage, or noise control systems. You can even adopt operational requirements needed for any industry.
How Much Do Steel Buildings Cost in Charleston, WV?
In Charleston, WV, most steel buildings range from $2,000 to $8,000 depending on color, size, and construction. However, some buildings can cost well over $10,000 due to their intricate models.
If you're looking to save a few bucks, construction owners suggest making the structure taller. By increasing the height from 6 to 12 stories, for example, you can save 4% per square foot.
To find an affordable metal building, contact a steel building seller. They have buildings for sale that are perfect for any budget.
Features to Look for in Metal Buildings
One feature every metal building needs is weatherproofing. Weatherproofing includes specially designed closing strips for the roof and base of the structure.
However, in reality, nothing is exactly "weatherproof" it's more weather-resistant. In weather-resistant spaces, air movement and control are well kept. This provides durability and long-lasting protection.
You should also look for high-quality panels, self-drilling fasters, and base trim. These components should be included no matter what building size you order.
Final Thoughts on Metal Buildings in Charleston
Unlike other buildings, metal buildings are durable and can be customized to fit any company's needs. While it might be a tad pricy depending on the features you select, most buildings are affordable.
When selecting metal buildings in Charleston, just remember that taller buildings are cost-efficient. If you choose a smaller building, you're more likely to spend more money. To get more information on steel buildings, get a free quote on our blog.