Buy 40×60 Steel Buildings – 2,400 Square Foot Metal Buildings
Lowest price every time. Compare the cost on 40×60 steel buildings from local suppliers in your area. Price & design your metal building super fast. You will love the huge list of standard features available on the best products.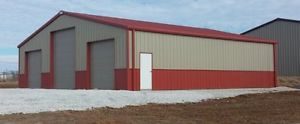 40×60 Metal Buildings
Garages, Shops, Warehouses, Storage
Tons of Floor Plans
Same Day Estimates
Find inexpensive 40×60 metal buildings for equipment storage, work-space, warehousing, and garage space.
Average Price For 40×60 Steel Building is $16,500 – $17,950. Including options needed, location, and optional features, cost is determined by many factors.

Common Steel Building Types:
Arch Style – used for used for storage, garages, and housing commercial tool.
Rigid Frame – used for large commercial and industrial purposes.
All steel building installs require a concrete pad to be fully inserted to support  the building.
Quonsets are buildings made of corrugated metal and having a semicircular cross section. For those in need of personalized and more flexible 40 x 60 steel building solutions than a Quonset hut, the best options are rigid frames, also called straight wall buildings. Rigid frames have a steel skeleton frame with flat steel panels for roofs and walls. Rigid frame buildings have many more custom options than you would with Quonset huts.