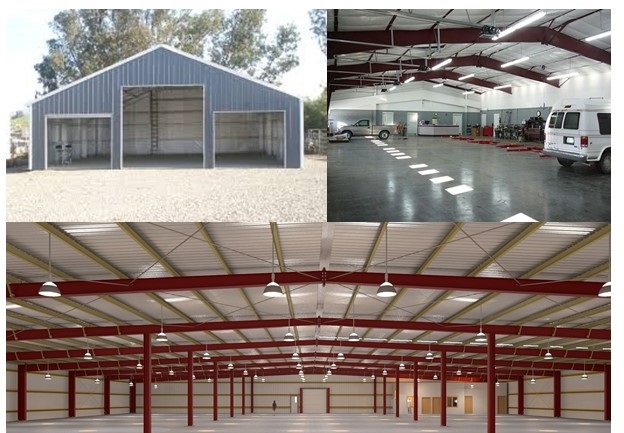 Metal Buildings – Compare The Cost
Welcome to Steel Building Zone. The leading one-stop resource for all types of metal and steel buildings.
What are steel buildings? How are they made and what are their uses? Your guide to steel building suppliers to discover everything you need to know.
Steel Buildings For Warehousing & Storage
Steel Garage Buildings, Workshops, Repair Shops, Quonset Huts
Agriculture & Farm
Steel Frame Buildings, Metal Buildings
Single Frame Steel Buildings
Gamble Steel Buildings, Gambrel (barn style), Single Slope
Sizes: 1,200 Square Feet – 20,000+ Square Feet
There are a few things the Brooklyn Bridge, Eiffel Tower, and Walt Disney Concert Hall all have in common? The 3 are the most famous steel structures of our time.
Steel is the trustiest building material. Steel buildings are strong, sustainable, and can be quickly built at a low price.
Modern building materials, insulation, and finishing options make metal and steel buildings the best option for many kinds of structures such as garages, gyms, manufacturing plants, and medical offices. Their primary advantages over normal construction buildings – that they are far less costly and can be built in less time – arrive from the fact that a lot of the labor is done at in advance.

Building Codes
Before you buy a steel building it's important that you contact your local building officials after you have obtained the specifications from your meter building supplier. Changes to meet building can certainly push the costs up, so to prevent unnecessary late surcharges, it's wise to verify that the contract includes all the right specifications to meet code.
History of Steel Buildings
Metal buildings have been around since the Industrial Revolution. That area saw the beginning of mass production and a wave of new building materials including steel.
An early use for steel was train stations. Then people began to build churches and commercial buildings out of steel.
By the end of the 19th century, the first skyscrapers began to emerge. Metal buildings continued to become increasingly popular.
By WWII, steel was used for military shelters, and oil storage. Quonset Huts were built on steel frames to provide the US Navy with shelter.
When the war ended, steel became accessible and available and began to be the standard for building materials.
One of the most famous steel constructions of the 20th century is the Empire State Building. When the Empire State Building was erected in 1931 it was the tallest building in the world. At 1200 feet (not including the antenna) it only took a year and 45 days to build.
By the end of the 1900s, steel production was advanced and allowed construction of railroads all over the globe.
What are Metal Buildings?
Steel buildings are metal structures that are constructed using steel for the internal support as well as for the exterior cladding. Steel is a flexible and versatile material that allows for ingenuity in design.
Steel building kits are popular for people who are interested in DIY projects to build offices, garages, sheds, and more.
There are various types:
Quonset Hut
Today, the Quonset Hut remains the most popular steel building. It's also commonly referred to as an arch type building.
Quonset huts are designed to have no interior posts. Instead, it has a self-supporting structure that can withstand any natural disaster.
You can order either a semi-circular shape or a structure with straight walls and a semi-circular roof.
Assembling this type of metal building is easy and economical. It's perfect as an open-ended building used for crop and grain storage. That's because installing doors can be expensive and tricky with this style of steel building.
Steel Garage Buildings
These buildings serve as garages and repair shops. The metal garages are fabricated with durable steel for the internal support and for exterior covering, as opposed to steel framed buildings which often use other materials for floors, and walls. From prefab garages to installations, we'll help you get the best price.
Clear Span Building
These types of metal buildings use support beam overhead that span the width of the entire building.
Few or no support beams are needed inside the structure. Clear span buildings are cost-efficient for small buildings. Larger constructions will need girders as roof supports which will raise the price of the building.

Straight Wall Buildings
These buildings have more enclosed, usable space compared to a Quonset hut of the same size. Straight wall buildings can be attached to another building easily.
Straight wall buildings also blend well with other buildings in the vicinity.
Shipping Container Steel Homes
Many people are choosing to purchase metal shipping containers to make box homes.
They can be turned into a tiny house using one container or a more spacious home by stacking and joining multiple shipping containers.
Many people are turning to this type of housing because it is environmentally friendly and easy on the wallet.
Pole Barns
A steel pole barn is made of anchored columns and can be built rapidly. They are best used for housing livestock and for storage.
They are durable and mold-resistant.
How Steel Buildings are Made
The process of making steel buildings is fascinating. First up is the delivery of raw materials. This includes steel coils and steel plates.
Then, a fully automated process prepares the primary structure. This means making beams and flat panes of steel. Some manual welding is done by human operators to join pieces together whereas in some cases the welding is fully automated.
Next up is beam cutting. Specialized machinery cuts the beams to the necessary size. Next, the steel pieces are painted on an automated painting line.
Next, purlins and girts are cold-formed to minimize weight while maximizing capacity. The final step is a CNC punching machine that makes the required holes in the steel at precise locations.
Metal coil stock is run off of a decoiler and cut to specified lengths. The sheets then move through a roll former that turns the flat sheets into roof panels.
Finally, insulation is added where needed and then the pieces are securely packed and prepared for shipping.
Common Uses for Metal Buildings
In our modern society, we rely on steel for a long list of constructions. Buildings that are taller than 492 feet (in other words, skyscrapers) are almost always made of a steel frame.
High-rise buildings under 491 feet are often made of reinforced steel and concrete.
Because steel is one of the strongest building materials available on the market, it is often used for industrial buildings. That way organizations save on repairs and damage. Not to mention that there is less labor cost when building steel structures.
Garages and Auto Repairs
Aircraft Hangers
Architectural Buildings
Churches
Auto Shops, Golf Cart Storage
Fitness Centers
Parking garages are made out of steel because of the sheer weight that these structures must be able to sustain.
Bridges all over the world are most-often constructed out of steel. The Brooklyn Bridge, for example, is the oldest suspension bridge in the US and is made of steel-wire suspensions.
Many residential buildings use a light-gauge steel to give the structure more structural integrity and strength. Not to mention that a large amount of steel that is used inside residential homes.
Steel is used in the home's foundation, in the HVAC, electrical panels, appliances as well as hardware and brackets.
How Long Do Metal Buildings Last?
Steel buildings are resistant to the wear and tear that is common with building materials such as brick, stone, and wood.
And, steel is 100% recyclable. That means that yesteryear's steel buildings were used to build today's structures. So what is built out of steel today will likely be recycled into a futuristic project down the road.
Many steel building suppliers offer extended warranties on their material. It's possible to get even a 50-year warranty!
So if you're wondering how long steel buildings last, you can be sure that they are built to last. And they will still be going strong well past the expiry date of structures built with other building materials.
Bottom Line on Steel Building Suppliers
Thanks for reading this article all about steel buildings. Hopefully, you learned something new and now see the value of choosing steel for your next building project.
If you are looking for quality, reliable steel building suppliers, check out Steel Building Zone for all your steel needs.