Buy 40×80 Steel Buildings – 3,200 Square Foot Metal Buildings
Lowest price every time. Compare the cost on 40×80 steel buildings from local suppliers in your area. Price & design your metal building super fast. You will love the huge list of standard features available on the best products.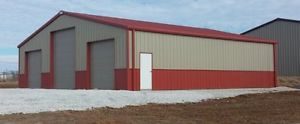 40×80 Metal Buildings
Garages, Shops, Warehouses, Storage
Tons of Floor Plans
Same Day Estimates
Find inexpensive 40×80 metal buildings for equipment storage, work-space, warehousing, and garage space.
Average Price For 40×80 Steel Building is $21,500 – $31,750. Including options needed, location, and optional features, cost is determined by many factors.
COMPARE QUOTES
National Average Cost of 40'x80′ Steel Building
Steel Building Type
Size
Low End $
High End $
Agricultural Steel Building
40'x80′
$52,000
$65,000
Airplane Hangers
40'x80′
$51,400
$70,500
Garage and Workshops
40'x80′
$49,000
$85,000
Warehouse and Storage
40'x860′
$46,000
$79,000
Commercial Center Metal Buildings
40'x80′
$50,000
$83,700
*Price ranges by location, pitch, and materials used
Factors Impacting the Cost of a 40'x80′ Metal Building and Its Common Uses
A 40'x80′ metal building is a versatile and cost-effective option for various applications. In this article, we will discuss the factors that impact the cost of a 40'x80′ metal building and the common uses for such structures.
Factors Impacting the Cost of a 40'x80′ Metal Building
Material: The primary material used for constructing a metal building is steel, which can be of various grades and thicknesses. The quality and type of steel chosen will have a significant impact on the overall cost. Galvanized steel, for example, is more expensive than regular steel but offers better resistance to rust and corrosion.
Foundation: A sturdy foundation is essential for a metal building. The type of foundation chosen, such as a concrete slab, pier, or footing, will affect the overall cost of the project. A more elaborate foundation with additional reinforcement may increase the expense.
Insulation: Insulating a metal building is important for maintaining a comfortable temperature inside and reducing energy costs. The choice of insulation materials, such as fiberglass, spray foam, or rigid board, will impact the overall cost of the building.
Accessories and Customizations: The addition of accessories, such as doors, windows, skylights, and ventilation systems, will also affect the cost of a metal building. Customizations, like the choice of color, roof pitch, or the inclusion of a mezzanine, can further increase the expense.
Location and Labor: The cost of labor for constructing a metal building will vary depending on the location of the project. In areas with a higher cost of living, labor expenses will be higher. Additionally, the difficulty of the construction site, such as the need for excavation or the presence of rocky terrain, can impact labor costs.
Permits and Codes: Obtaining the necessary permits and adhering to local building codes can also influence the cost of a metal building. In some cases, additional engineering or design work may be required to meet specific code requirements, which can increase the overall expense.
COMPARE QUOTES
Common Uses for 40'x80′ Metal Buildings
Agricultural: A 40'x80′ metal building is an ideal size for housing livestock, storing feed, or accommodating farm equipment. The durability and low maintenance of metal buildings make them an excellent choice for agricultural use.
Commercial: Businesses can use a 40'x80′ metal building as a warehouse, office space, or retail store. The open floor plan and customizable features of these structures make them suitable for various commercial applications.
Industrial: Industrial operations, such as manufacturing or assembly plants, can benefit from the spaciousness and strength of a 40'x80′ metal building.
Recreational: A 40'x80′ metal building can be used as an indoor sports facility, gym, or community center. The open layout and customizable features allow for the installation of various recreational amenities, such as basketball courts, fitness equipment, or even a swimming pool.
Residential: Homeowners can use a 40'x80′ metal building as a workshop, garage, or additional living space. The durability and low maintenance of these structures make them a practical option for residential use, while the ability to customize the building allows for the creation of unique and functional spaces.
Storage: A 40'x80′ metal building is ideal for use as a storage facility, whether for personal belongings, vehicles, or commercial inventory. The large size and customizable layout make it possible to efficiently store items of various sizes and quantities.
A 40'x80′ metal building is a versatile and practical option for various applications. The cost of such a building depends on factors such as material, foundation, insulation, accessories, labor, and permits. By understanding these factors and considering the intended use, one can make an informed decision when investing in a metal building of this size.Common Steel Building Types:
Arch Style – used for used for storage, garages, and housing commercial tool.
Rigid Frame – used for large commercial and industrial purposes.
All steel building installs require a concrete pad to be fully inserted to support  the building.
Insulation will also be in important consideration. Unless the metal building will only be used for non-climate-controlled storage, adequate insulation will be extremely important. Make sure the  supplier you work with can install affordable insulation that adheres to all state and federal guidelines.
COMPARE QUOTES